MS-1530XGB Portable Pipe and Plate CNC cutting machine
Product Detail
Product Tags
System advantages
1. 7 inch color LCD screen, Easy to operation, Can switch multi languages.
2. Can achieve pipe and plate cutting function, Any plate / round pipe processing.
3. Pipe end cut off function, you can arbitrarily set the chamfering angle.
4. Shrimp lips elbow cut, can set the number of section, elbow angle.
5, Eccentric saddle head cutting; mother tube hole cutting can be used with the riding type, plug-in branch;
Features
Meisar MS portable intersection cutting machine can achieve two kinds of tube and plate cutting method, can greatly save customers cost;
Machine support round tube guide rail is with24KG / M fine grinding guide, has heavy bearing capacity, long life and other advantages.
Chuck motor is with high precision Taiwan Delta servo motor drive, low noise, high precision, long service life;
Tube support frame is using finishing screw; when support the workpiece, can save more effort;
Technical Parameters
Name

CNC tube plate dualuse cutting machine

Model
MS-1030X
MS-1060X
MS-1530XGB
MS-1560XGB
Motor type
Delta ASDA400W
Delta ASDA400W
Delta ASDA400W
Delta ASDA400W
Chuck size

250-type threejaw chuck (customizable)

Input voltage

Single phase AC-220V

input power

About 800W

Effective cutting length of steel pipe
3000mm
6000mm
3000mm
6000mm
Pipe diameter

StandardΦ40mm-300mm (can be customized large diameter)

Maximum carrying weight
≤500KG
≤800KG
 ≤300KG
 ≤800KG
 Support rail size

24KG / M fine grinding guide

How to use it

Intersecting line cutting

Tube plate dual purpose cutting

Customize information

For other sizes, weight, diameter requirements can be customized according to customer requirements

Cutting type

Plasma / flame cutting

Tube oval

≤2%

Number of pipe supports
1Set
2Sets
1Set
2Sets
Number of NC linkage axes
2 axis
2 axis
2 axis
2 axis
Torch lift

≤ 105mm

Operating accuracy

± 0.2mm/m

Flame cutting thickness

5mm-120mm

Plasma cutting thickness

Depending on the size of the plasma power supply

Plasma arc pressure is raised

HP-105 Standard for the Changzhou Hayes HP-105

Gas supply requirements

Acetylene / propane gas pressure ≤ 0.1MP

Oxygensupply requirements

Oxygen maximum pressure ≤ 1MP

Cutting table

Tube cutting Taiwan for the one-piece stnjcture, we provide cutting table drawings customers self-processing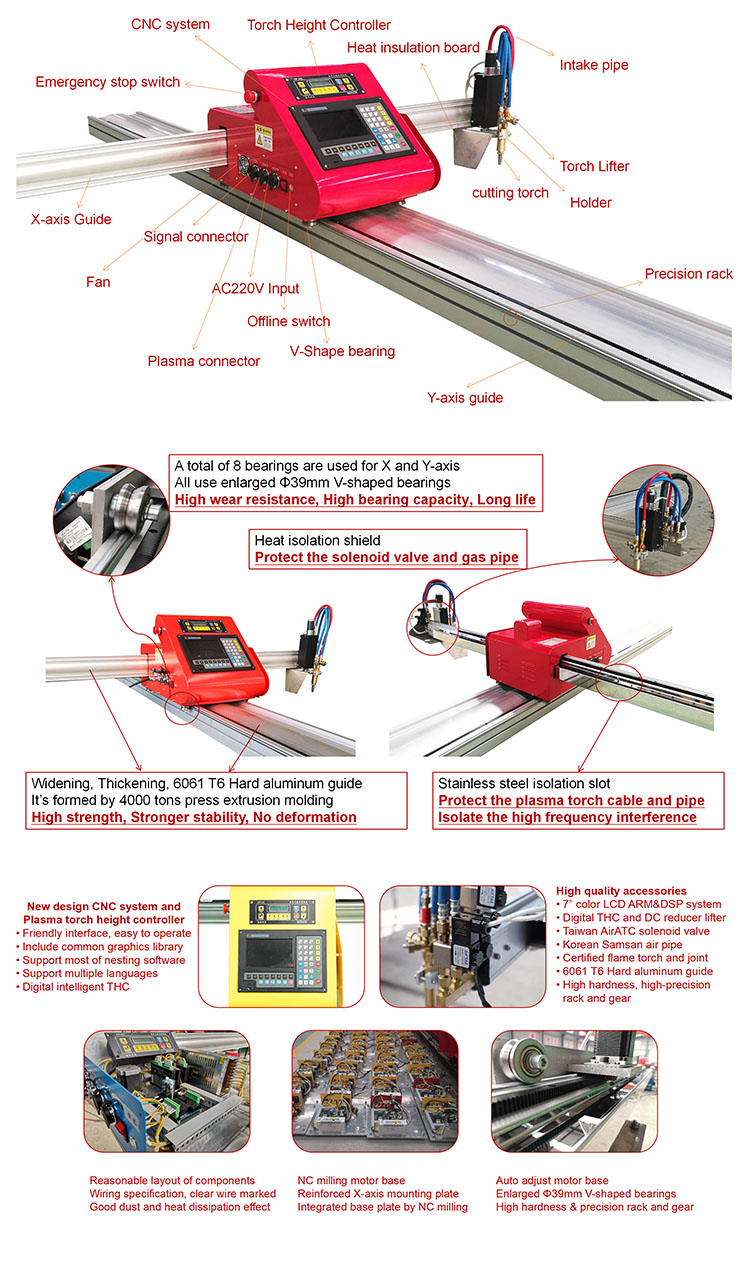 ---
Next:
Hot New Products H Beam Cutting Machine - MS-5B-4010 Gantry type CNC flame straight cutting machine – Meisar
---
Write your message here and send it to us