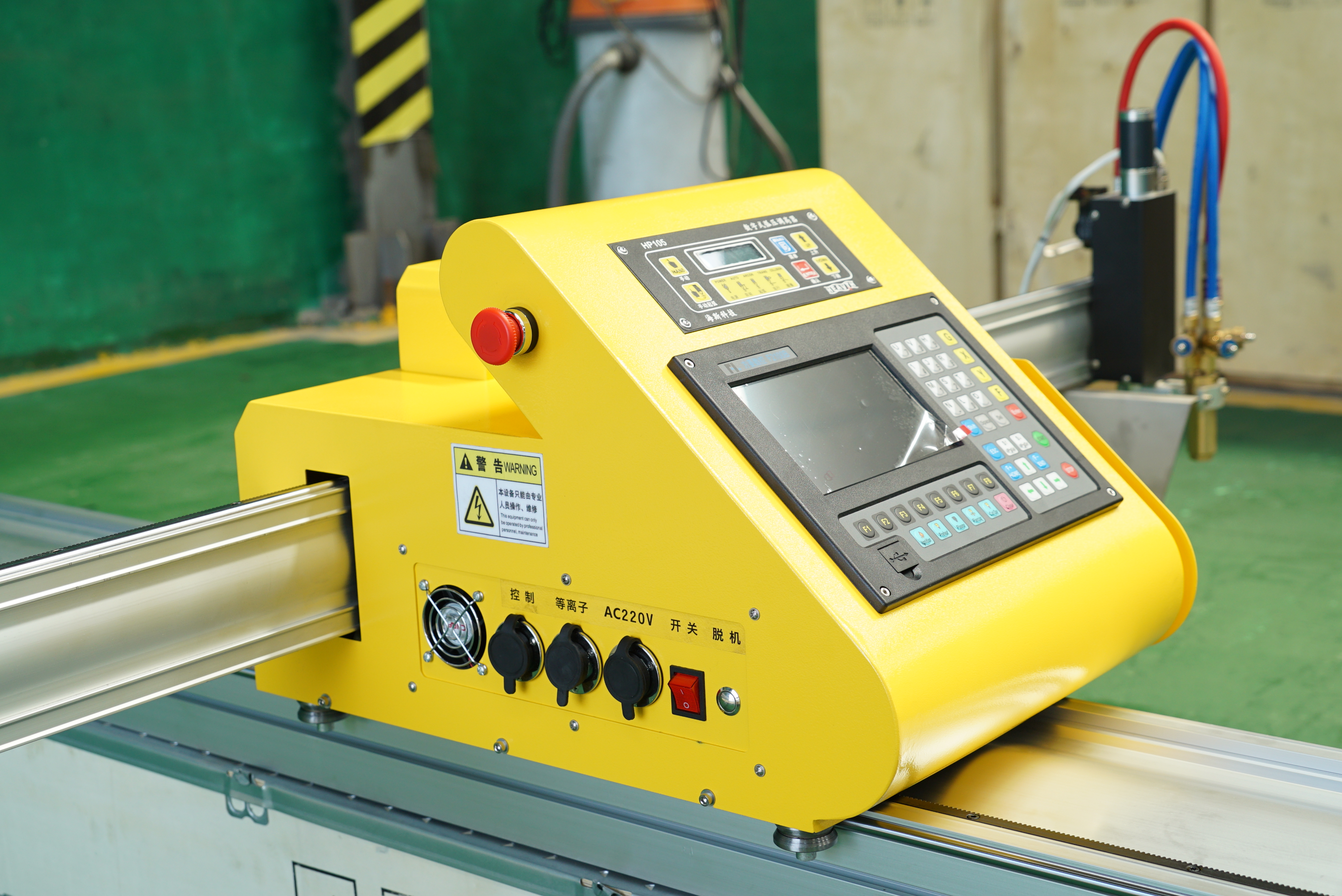 Portable Flame and Plasma CNC cutting machine
Portable Flame and Plasma CNC cutting machine is mainly used in all kinds of metal plates (such as: carbon
steel, stainless steel, aluminum, low alloy steel, aluminum alloy), but also in the complex pattern of the
above materials Processing.
Technical Specification

Product Name

Portable Flame and Plasma CNC cutting machine

Model

MS-1530HDX

Control System

Fang Ling F2100B

Motor

57 Stepper Motor

Color

Red,Blue,Yellow.

Cutting Mode

Plasma Cutting+ Flame Cutting

Flame Cutting Gas

Oxygen with propane or acetylene

Plasma Torch Gas

Compressed air/N2/O2

Working Area

1500mm*3000mm or 2000mm*3000mm

Cutting thickness

0-150mm

Cutting speed

0-8000mm/min

Operation precision

0.2mm/m
Main Features:
1.Cross beam driving model, enables a more stable balance movement, avoid the head declining due to gravity
2.Reasonable cutting area: effective 1.5m*3.0m, suitable most common sheet 4ft*8ft
3.Light and smart, no fixed place occupation, sustain cutting on sheet directly
4.Simple structure, easy for packing, delivery, installation and disassemble
5.Overall processing alloy base, assure light and precise, no base shape deformation
6.Cross beam and rail both with linear guide, high accuracy good stability moving
7.With motor enable/disable button, ensure operator and machine safety and start position random select,
save material save time.
How plasma cutting works
Plasma cutting is a process in which electrically conductive materials are cut through by means of an accelerated jet of hot plasma. Typical materials that can be cut with a plasma torch are steel, stainless steel, aluminium, brass, copper and other conductive metals. Plasma cutting is widely used in manufacturing, automotive repair and restoration, industrial construction, salvage and scrapping. Due to the high speed and precision of the cuts at low cost, plasma cutting is widely used from large industrial CNC applications to small hobby companies where the materials are subsequently used for welding. Plasma cutting - Conductive gas with a temperature of up to 30,000°C makes plasma cutting so special.
The basic process in plasma cutting and welding is to create an electrical channel of superheated, electrically ionised gas – i.e. plasma - from the plasma cutter itself through the workpiece to be cut, thus forming a finished circuit back to the plasma cutter via an earth terminal. This is achieved by a compressed gas (oxygen, air, inert gas and others depending on the material to be cut) which is blown to the workpiece at high speed through a focused nozzle. Within the gas, an arc forms between an electrode near the gas nozzle and the workpiece itself. This electric arc ionises part of the gas and creates an electrically conductive plasma channel. As the current from the cutting torch of the plasma cutter flows through this plasma, it gives off enough heat to melt through the workpiece. At the same time, much of the high-speed plasma and compressed gas blows the hot molten metal away, separating the workpiece.
Plasma cutting is an effective way to cut thin and thick materials. Hand torchescan usually cut up to 38 mm thick steel sheet, stronger computer controlled torches can cut up to 150 mm thick steel sheet. Since plasma cutters produce a very hot and very localised "cone" for cutting, they are very useful for cutting and welding sheets in curved or angled shapes.
---
Post time: Mar-05-2020